MORI Masahiko
Associate Professor
Theme
Clarification of the genetic mechanisms associated with agronomic characteristic of crop
Belongs
Research Center for Global Agromedicine/Department of Agriculture and Animal Science
Research Department/Department of Agro-environmental Science/Division of Plant Production Science/Section of Plant Production Science
Field

Plant production science,

Plant breeding and Genetics

Keyword

adzuki bean,

potato,

growth habit,

plant type,

quantitative trait loci,

gene,

gene expression
Introduction
The adzuki bean (Vigna angularis)has been cultivated throughout east Asia, and it is a traditional legume crops in these countries. In Japan, adzuki beans are the second most important legume after soybeans, with about 60% of adzuki beans grown in Tokachi region. Our laboratory focuses on the genetic traits for stable production of the adzuki bean. These areas include growth habit and plant type of the adzuki bean.

Establishment of the combine harvesting system: To decrease harvesting loss of the adzuki bean, it is necessary to improve the plant type of the adzuki bean. Present cultivars are undesirable plant type to harvest by the large combine because these have many pods near the soil surface. Recently, new lines that have adapted to combine harvesting were developed. These lines have long epicotyl length and the distance from soil surface to pod position is more than 10-cm (Fig. Differences in epicotyle length traits). But genetic mechanisms
to control epicotyl elongation are not cleared. To identify chromosomal regions and/or genes associated with epicotyl length, we have performed QTL mapping. We are interested in developing molecular markers linked to epicotyl length traits. Such markers could be incorporated into breeding programs to more efficiently select parents and screen progeny. Our long-term goals in this study are to establish new harvesting system and to contribute labour saving of agricultural work.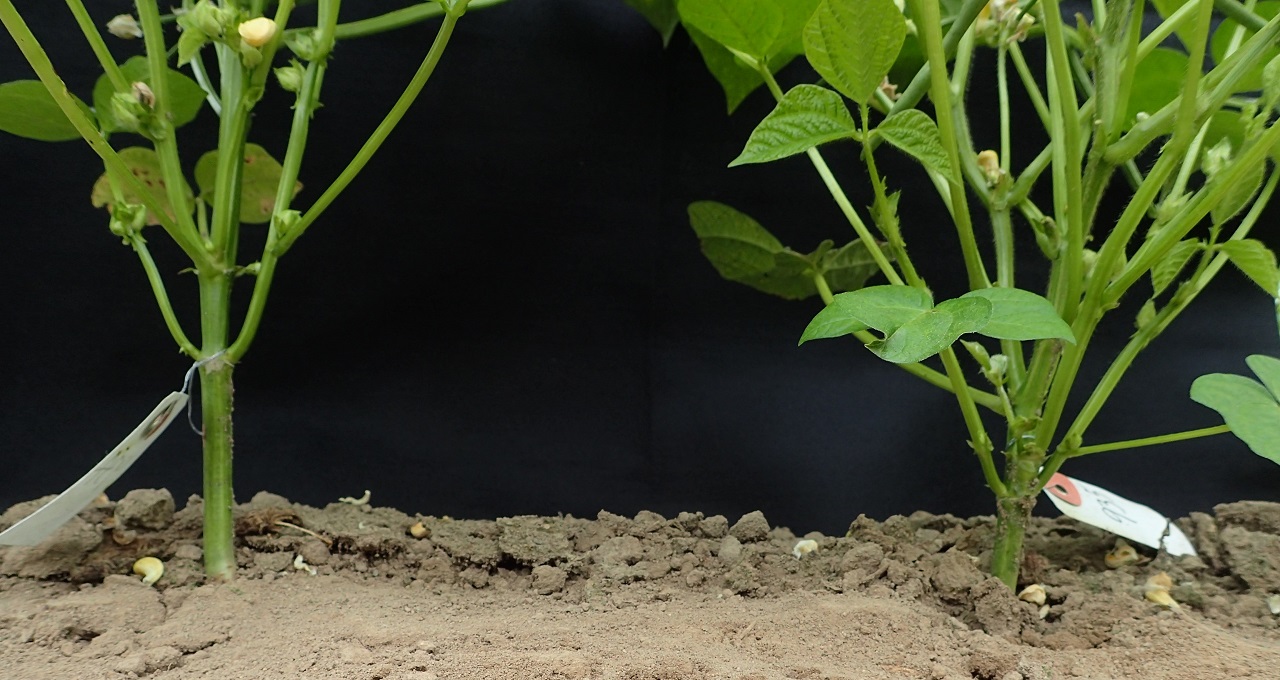 List of current research topics
Study for improvement of plant type to enhance the adaptability for combine harvesting in the adzuki bean.
Identification of genes and developing new DNA markers associated with days to maturity of pods in the adzuki bean.
Related industries

Development new cultivars

Affiliated academic society

Crop Science Society of Japan (CSSJ),

Japanese Society of Breeding (JSB),

Japanese Society for Root Research (JSRR)
Academic degree

D.Agr.

Self introduction

My hometown is Kyoto city. I like to play sport, so I usually enjoy cycling with my son on the weekend. I take part in a handball game a few times a year.

I studied plant breeding of wheat and rice when I was a university student.I am trying to use new crops such as potato and adzuki bean for genetic analyses.

Room address
General Research Building I
Mail address
mmmori obihiro.ac.jp