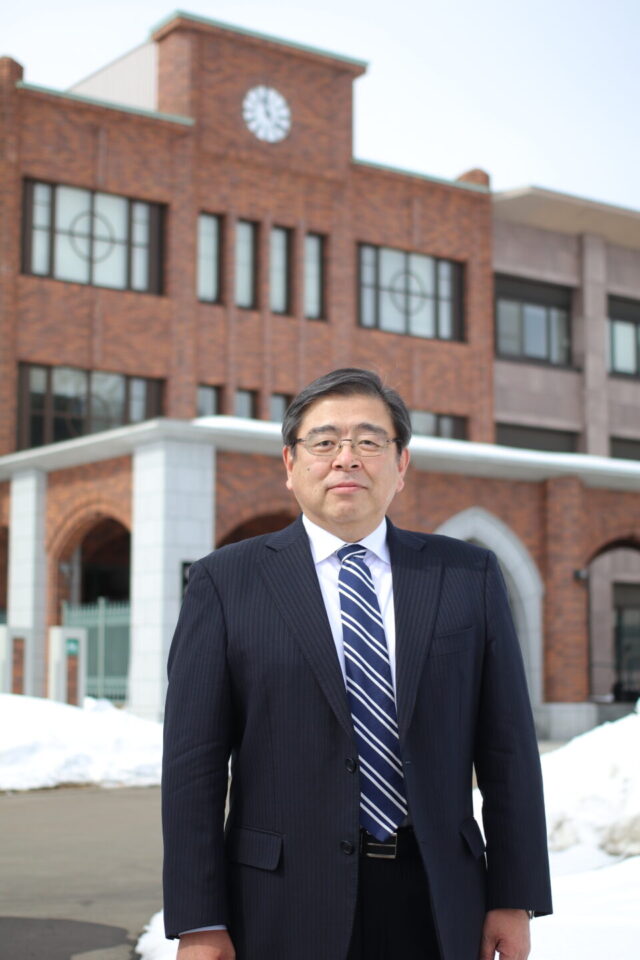 Obihiro University of Agriculture and Veterinary Medicine was founded in 1941 as Obihiro Higher Technical School of Veterinary Medicine. It later became Obihiro College of Veterinary Medicine and then Obihiro Agricultural College before attaining its current status as Obihiro University of Agriculture and Veterinary Medicine. With our campus located at the heart of the vast Tokachi Plain, we offer educational and research programs based on practical learning in agriculture, animal husbandry, and veterinary medicine.
You may have heard that we have agreed to integrate with Otaru University of Commerce and Kitami Institute of Technology in April 2022 based on a system that allows a single university corporation to operate multiple national universities and thus streamline management. The integration is intended to further enhance all educational and research functions of the three universities and contribute to the development of the economy and industry of Hokkaido and to the prosperity of the international community while helping to resolve ongoing challenges that society faces.
As the only national agricultural university in Japan, we continue to pursue our mission: advancing related knowledge and expanding practical learning. We will contribute to regional and international societies by training individuals who have skills in sustainable agriculture to protect our food resources. To fulfill this mission, the School of Cooperative Veterinary Medicine aims to train veterinarians who can contribute to society in the field of clinical veterinary medicine — with practical expertise in animal disease diagnosis and prevention — and in zoonosis control and other public health fields. The School of Agriculture prepares to students to be professionals who can play leading roles in wide-ranging fields of agriculture and animal husbandry, including food hygiene, with expertise in life science, food science, and environmental science based on the concept of "from farm to table." To develop globally competent individuals, we also offer undergraduate and graduate interdisciplinary educational and research programs that involve agriculture, animal husbandry, and veterinary medicine.
We seek to foster globally minded agricultural experts who can meet the needs of society in collaboration with various organizations, including local research and development institutes; businesses related to agriculture, food, and animals; international organizations responsible for animal health and food safety; and organizations engaged in international cooperation in developing countries. To this end, we are working to achieve the following four visions.
Develop a curriculum that is equal to the educational standards of Europe and America.
The School of Cooperative Veterinary Medicine acquired accreditation from the European Association of Establishments for Veterinary Education (EAEVE) to provide an advanced world-class veterinary education to prepare veterinarians for global careers.
Pursue global collaborative research and educational exchanges with top universities around the world.
The university offers lectures and summer programs featuring faculty members of Cornell University and the University of Wisconsin-Madison, both in the United States, based on the academic exchange agreements with these universities. It also dispatches graduate students to the world's leading universities to promote participation in global collaborative research. The university also works to boost its international research collaboration based on its world-class research in agriculture, animal husbandry, and veterinary medicine. These efforts will continue to enhance research standards and develop related fields.
Train individuals through practical coursework that conforms to international standards for safety and hygiene.
The goal is to graduate trained professionals who can maintain international standards for safety and hygiene. The Graduate Degree Program of Animal and Food Hygiene for students in the Doctoral Program of Animal Science and Agriculture provides an educational curriculum in food safety management using facilities that conform to international standards and that produce qualified Hazard Analysis Critical Control Point (HACCP) experts.
Conduct collaborative research and training suited to the needs of society and business.
The Graduate School of Animal and Veterinary Sciences and Agriculture works on increasing the number of research topics based on collaborative research with businesses to train future workers that best suit the needs of business and other sectors of society.