Ryuji Nagata
Assistant Professor
My Dream
Make any meal healthy
Theme
The search for food materials that improve the intestinal environment, carbohydrate and lipid metabolism, and systemic health through the intestinal microbiota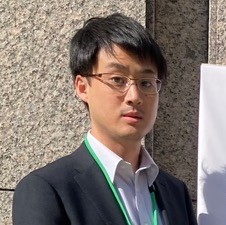 Field
Food Nutrition,
Nutritional Biochemistry
Keyword
Intestinal microbiota,
Intestinal fermentation,
Prebiotics,
Probiotics,
Resistant starch,
Dietary fiber,
Oligosaccharide,
Polyphenol,
Resistant protein,
Intestinal immunity,
Glycometabolism,
Lipid metabolism,
Next-Generation Sequencing
Laboratory of Nutritional Biochemistry
Instructable research topic for doctoral thesis
主に食物繊維,難消化性でんぷん,難消化性タンパク質,ポリフェノールなどの食品成分やこれらを含む食品素材に着目し,腸内細菌叢・腸内環境,糖・脂質代謝などへの影響を明らかにする。
過去の研究テーマの例
・in vitro試験における機能性大麦BARLEYmaxとカカオポリフェノールの組合せが腸内発酵特性に及ぼす影響
・小豆餡投与によるラットの腸内発酵特性および抗肥満効果
・金時豆の摂取がラットの脂質代謝および腸内環境に与える影響
・紫サツマイモポリフェノールとイヌリンの組み合わせによるラットの腸内発酵への影響
・難消化性でんぷんを多く含むじゃがいもでんぷんがラットの腸内発酵特性に及ぼす影響
・湿熱処理ソルガムの摂取がラットの腸内発酵および脂質代謝に及ぼす影響
Message
私は高校生の頃まで運動部に所属していたこともあって,食品の栄養や代謝に興味を持ちました。その後,帯畜大の授業で「体内に吸収されない食品成分が健康に良いはたらきをする」ということを非常におもしろく感じ,腸内細菌・腸内発酵などの栄養学の分野に足を踏み入れました。
「食」は非常に身近なもので世の中に情報も溢れていますが,理解があいまいなままになっている部分も多くはないでしょうか。当研究室での研究を通して「食」への理解を深め,世の中の様々な情報に対して自分で考え判断する力を身に付けてみませんか。そして,学んだことをぜひみなさんの周りの人たちに伝えてあげて欲しいと思います。
将来研究を仕事にしなくとも,学生の時に研究に取り組むことは非常に貴重な経験です。興味を持って取り組んでくれる方を歓迎します。
食の宝庫である十勝で食品科学・栄養学を一緒に学びましょう。
| | |
| --- | --- |
| Academic degree | Ph.D.(Agriculture) |
| Self introduction | I am from Tokachi, Hokkaido. After graduating from a high school in Obihiro City, I spent my university life at this university until the doctoral course. My hobbies are drinking, BBQ, watching baseball games, and reading. |
| Room address | General Research Building Ⅲ |
| Room number | 413 |
| Mail address | rnagata obihiro.ac.jp |
Belongs
Research Department/Department of Life and Food Sciences/Division of Food Science/Section of Food Technology and Biotechnology
Introduction
The human large intestine is inhabited by as many as 100 trillion intestinal bacteria of 1,000 types. Each of these bacteria has a variety of functions, and the activation of beneficial bacteria may improve the intestinal environment and affect systemic health. In our laboratory, we are studying the effects of food intake on the intestinal environment and systemic health through the activation of intestinal microbiota. We are conducting evaluation through comprehensive microbial analysis and quantification of microbial fermentation metabolites.
Intestinal microbiota influence the intestinal environment by fermenting various nutrients. On the other hand, in order to supply nutrients to the intestinal microbiota in the colon through the food intake, it is preferable that the food is not easily digested and absorbed in the small intestine. Therefore, our laboratory mainly focuses on food components such as dietary fiber, resistant starch, resistant protein, and polyphenols, and we deal with food materials containing these components. The properties of these ingredients vary depending on the food material they contain, and they have different effects on intestinal microbiota. By clarifying the characteristics of the effects and mechanisms of action of each food material and ingredient, we will promote the search for beneficial food materials.
List of current research topics
Exploration of food materials and their combinations that are beneficial for intestinal microbiota, intestinal environment, and carbohydrate and lipid metabolism
Affiliated academic society

Japan Society of Nutrition and Food Science,

Japanese Association for Dietary Fiber Research,

Japan Society for Bioscience, Biotechnology, and Agrochemistry

Academic background
~2015 (B.S.) Food Science Program, School of Agriculture, School of Agriculture and Animal Science, Obihiro University of Agriculture and Veterinary Medicine
~2017 (M.S.) Master's Program in Food Science, Graduate School of Animal Husbandry, Obihiro University of Agriculture and Veterinary Medicine
~2020 (Ph.D.) Utilization of Bioresources, Bioresources Science, The United Graduate School of Agricultural Sciences, Iwate University
~2021 DAITOCACAO Co., Ltd.
2021- present