ITOH Megumi
Assistant Professor
My Dream
Sending cow hypocalcemia to the smartphone in real time
Theme
To develop a herd management system estimating blood calcium by electrocardiogram waveform, and to contribute to early diagnosis and treatment of hypocalcemia before and after parturition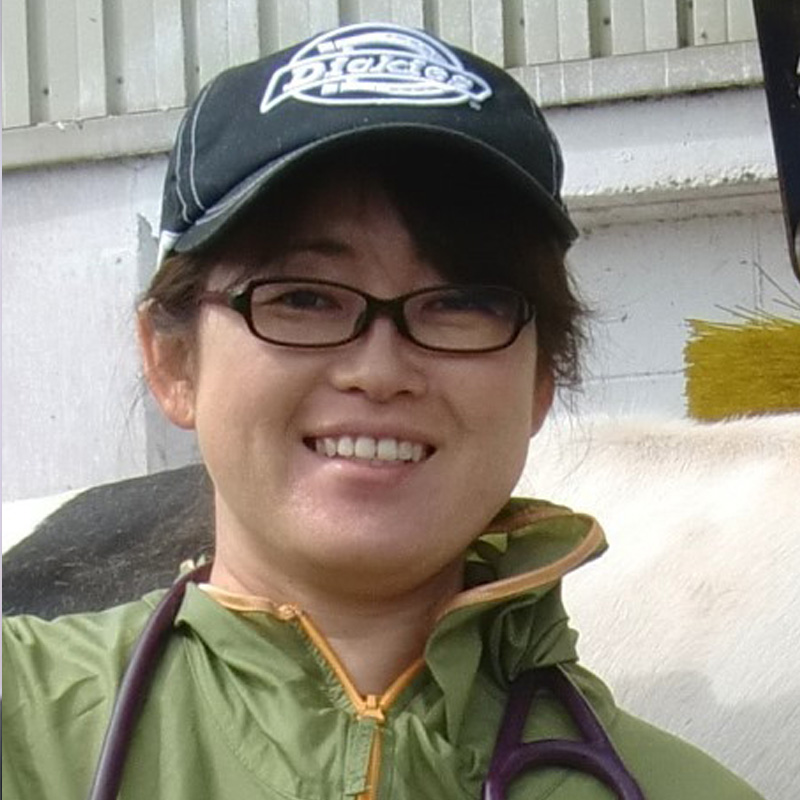 Field
Large animal clinic,
Prevention in production disease,
Bio-information
Keyword
Cow,
Milk fever,
Blood calcium,
Electrocardiogram,
Wireless,
Crowd
Instructable research topic for doctoral thesis
乳牛の自律神経機能解析に関する研究
牛のマイコプラズマ感染症の予防・診断・治療および疫学研究
子牛のクリプトスポリジウム症の予防および治療に関する研究
その他、農場で発生した疾病の発生要因解析や予防・低減対策
Message
牛は乳や肉を生産する過程で様々な病気を発症します。我々のために働いてくれている牛達(と農家さん)が出来るだけ快適で幸せに過ごせるように、微力ながらお手伝いできたらと思い、日々活動しています。
研究対象とする動物は主に乳牛です。十勝という広大なフィールを活用し、現場の獣医師や酪農家が日常の経験の中で感じる疑問を、客観的データという形にして解明する。そんな、ちょっと現場寄りの研究を目指しています。
ルーチンワークとしては、子牛と母牛の診療を行っています。ぐったりした牛が日に日に元気になっていくのでとてもやりがいを感じますよ。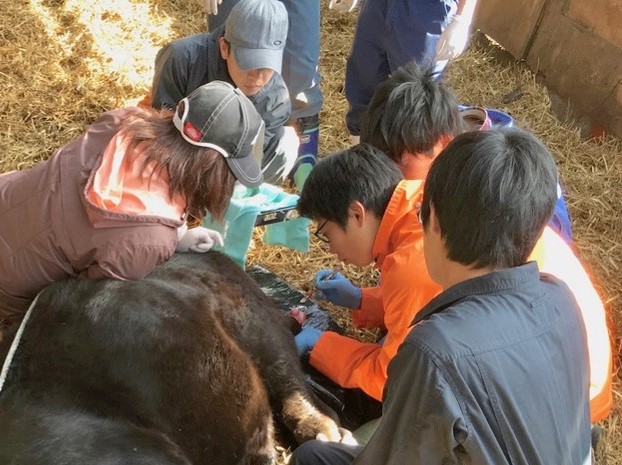 | | |
| --- | --- |
| Academic degree | D. Vet. |
| License | Veterinarian |
| Self introduction | I'm from Asahikawa, Hokkaido. I've lived in Tokachi since graduating from university. Although I'm involved in a wide variety of research, I focus on disease prevention and techniques that can be utilized onsite. The Basset hound is my favorite breed of dog. |
| Room address | Large Animal Hospital and Clinical Research Building |
Belongs
Research Department/Department of Veterinary Medicine/Division of Clinical Veterinary Medicine/Section of Large Animal Clinical Sciences
Veterinary Medical Center/Large Animal Clinic
Introduction
Dairy cows start to lactate after delivery, but since calcium (Ca) is secreted into milk in large amounts, the blood concentration of Ca is prone to decreases. Since hypocalcemia reduces muscle contraction, it can cause decreases in gastrointestinal motility and an inability for the mother to stand immediately after delivery. In Hokkaido, these symptoms appear in 40,000 dairy cows annually, with 4,000 of them dying. Decreases in blood Ca concentration also affect the contractions of the heart. So, when the blood Ca concentration decreases, the electrocardiogram waveform changes. Based on these facts, we've developed a system that estimates blood Ca concentration from electrocardiogram waveforms (photo: the blood Ca concentration analysis system).
Currently, sensors are placed on cows for round-the-clock monitoring to establish a system that sends data to farmers and veterinarians when the blood Ca concentration of any cow falls. By monitoring the blood Ca concentration of dairy cattle around the clock before and after parturition, it's possible to detect hypocalcemia and to provide treatment at the early stage. We believe that the system can mitigate the problem of hypocalcemic cattle for farmers.
Related industries

Veterinary medicine,

Animal husbandry,

Animal hygiene,

Bionics

Affiliated academic society

the Japanese Society of Veterinary Science,

Japan Veterinary Medical Association,

Large Animal Clinic Research Association

Editorial Board

Japanese Journal of Large Animal Clinics; 2017-

Academic background
1997 Bachelor, Faculty of Agriculture, Iwate University
1997-2011 Researcher, Hokkaido Prefecture
2011 Doctor, the United Graduate School of Veterinary Sciences, Gifu University
2011-2014 Assistant Chief Researcher, Hokkaido Research Organization
2014- Assistant Professor, Obihiro University of Agriculture and Veterinary Medicine