KISHIMOTO Tadashi
Professor
My Dream
Tractor dynamics analysis on soft soil as farm field
Theme
Desing of farm tractor lug shape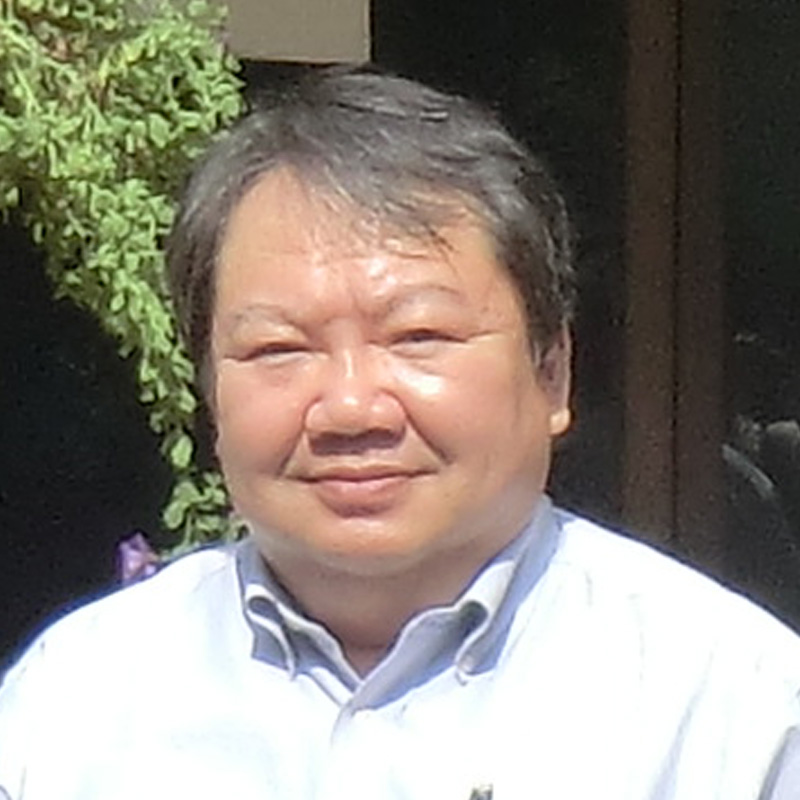 Field
Agricultural environmental engineering,
Agricultural energy engineering,
Agricultural machinery
Keyword
Tractor,
Agricultural tire,
Radial tire,
Traction,
Motion resistance,
Dynamic load,
Lift resistance,
Vertual hitch point,
Load transfer,
Tillage machinery
Instructable research topic for doctoral thesis
農用車両のけん引・制動時の接地荷重反力変動の解析
農用タイヤラグの設計理論解明
スラリーインジェクタによる家畜ふん尿の土壌還元技術に関する研究
スラリーインジェクタディスクの抵抗低減に関する研究
熱帯非食用作物によるバイオディーゼル燃料生産関する研究
Message
現在の農業ではトラクタは不可欠ですが,燃料である軽油は化石燃料由来であるため二酸化炭素の発生源となります。これを減らすためにはバイオディーゼル燃料が有効であると考えられます。特に熱帯地方での非食用エネルギー作物からの燃料生産について研究しています。
トラクタの大型化が進んでいますが,効率よくトラクタを使用するためには土と機械との関係を明らかにしたうえで,トラクタの性能を十分に引き出す高性能タイヤが必要となります。そのための様々な使用条件でのタイヤの性能評価やタイヤラグの設計を行っています。
持続型農業での肥料成分リサイクルの一環としてバイオガス回収後の家畜ふん尿消化液を畑や草地に還元するためのスラリーインジェクタのけん引特性の解明を行っています。消化液の肥料成分の有効利用が見込めます。
Academic degree

Ph.D.

License

Driver's licence(middle size vehicle, special vehicle,trailer),

Crane oeperation(less than 5 t),

Slinging operation

Self introduction

I am from Fukuoka city in Kyushu. I have been conducting research on the field of "Terramechanics" as analyzing of the phenomena between soil and tractor or tillage machinery. Slurry injection machinery and the production of bio-diesel fuel are also

Room address
General Research Building I
Room number
N2302-2
Mail address
tksmt obihiro.ac.jp
Belongs
Research Department/Department of Agro-environmental Science/Division of Environmental and Agricultural Engineering/Section of Environmental and Agricultural Engineering
Introduction
Motion analysis of agricultural tire lugs were conducted and obtained the characteristics of tire-lug interactions. Lug design equation for installing angel of a trailing lug side was obtained through the idea of the reduction of the motion resistance. Three-sided lug transducers and an axis type transdeucerwere newly designed and developed and clarified the characteristics of soil-lug interaction by experiments. Those transducers were also able to measure the lift resistance. Tire experiments with pressure sensors on leading and trailing lug side and three directional load cell on the lug face were conducted and obtained the relationships between lug components and the external forces under traction and braking conditions.
Slurry injector disk experiments showed that the thinner disk thickness and larger diameter can reduced the cutting resistance of the injector disk with a new disk tester.
List of current research topics
Dynamic analysis of traction and braking conditions of agricultural vehicle
Design theories of agricultural tire lug
Analysis of soil compaction phenomena and its reduction through tire design
Application technology for animal effluent to field
Bio-diesel fuel production from inedible energy crop in tropical zone
Affiliated academic society

The Japanese Society of Veterinary Science,

International Society of Terrain Vehicle Systems,

American Society of Agricultural and Biological Engineers,

Japanese Society of Farm Work Research,

The Society of Agricultural Structures, Japan,

The Asian Association for Agricultural Engineering

Academic background
1980 B.S, Department of agricultural engineering, Obihiro University of Agriculture and Veterinary Medicine
1981 Studying abroad, Department of agricultural Engineering, University of Peradeniya, Sri Lanka
1984 M.S., Obihiro University of Agriculture and Veterinary Medicine
1988 Withdrawal from graduate school, Kyushu University
1988 Assistant professor, Obihiro University of Agriculture and Veterinary Medicine
1991 Ph.D., Kyushu University
1994 Overseas research fellow by Ministry of ECSST
2000 Associate professor, Obihiro University of Agriculture and Veterinary Medicine
2004 Associate professor(concurrent), United Graduate School of Agricultural Science, Iwate University
2007 Name changing from "Jyokyoujyu" to "Jyunkyouju" by Ministry of ECSST
2014 Professor, Obihiro University of Agriculture and Veterinary Medicine
2014 Professor(concurrent), United Graduate School of Agricultural Science, Iwate University
2014- Present