KINOSHITA Rintaro
Assistant Professor
My Dream
Unravel soil functions to improve agricultural productivity
Theme
Building crop production systems suited to the soil environmental conditions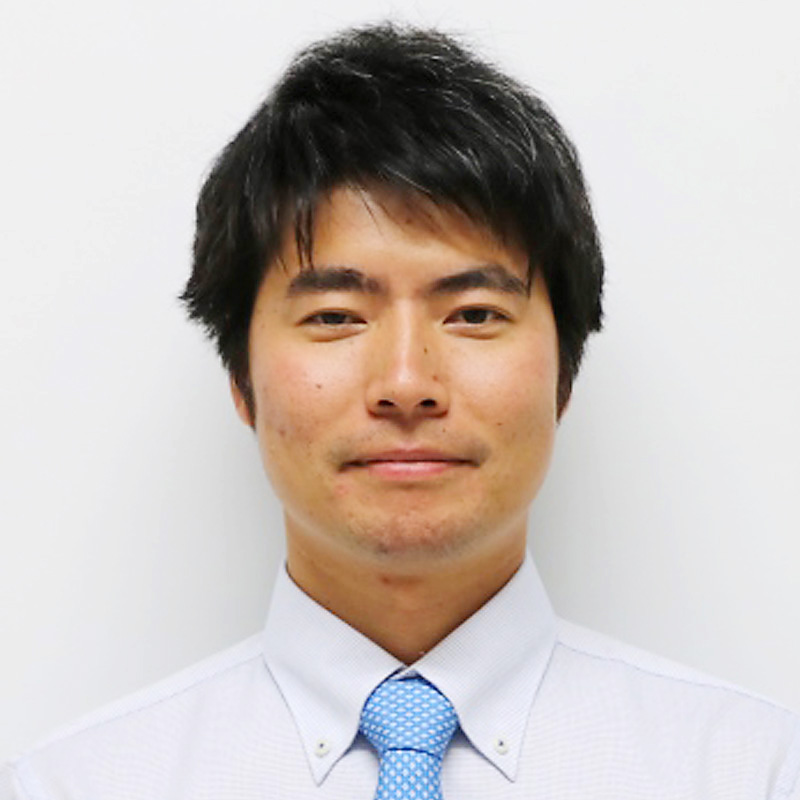 Field
Soil science,
Environmental information science
Keyword
Soil fertility,
Phosphorus,
Rapid soil assessment,
Remote sensing,
GIS,
Clay minerals,
Soil formation
Laboratory of Environmental Soil Science
Instructable research topic for doctoral thesis
熱帯地域における作物の肥培管理技術の向上に関する研究
赤外線センサーを利用した簡易土壌分析技術の構築
人工衛星やドローンデータを用いた土壌特性の評価方法の構築
黒ボク土の特性の解明に関する研究
粘土鉱物や腐植物質を利用した新たな肥料形態の開発
Message
日本や世界の農業生産現場にはまだまだ生産性や経済性を改善できる伸びしろがあります。その一つの鍵を握っているのが土壌です。土壌はブラックボックスであるというイメージが強いですが、その機能を一つ一つ解明し、その情報を生産現場に伝えることがとても大切だと考えています。私はこれまで様々な国で暮らしてきましたが、土壌の情報を正確に捉え、その情報を基に作物生産を行なっている生産者は非常に少ないのが現状です。これが、生産現場でポテンシャルの50%にも満たない収量しか得られていない理由なのかもしれません。一緒に帯広を拠点に土壌機能の解明を進め、世界に情報を発信していきませんか。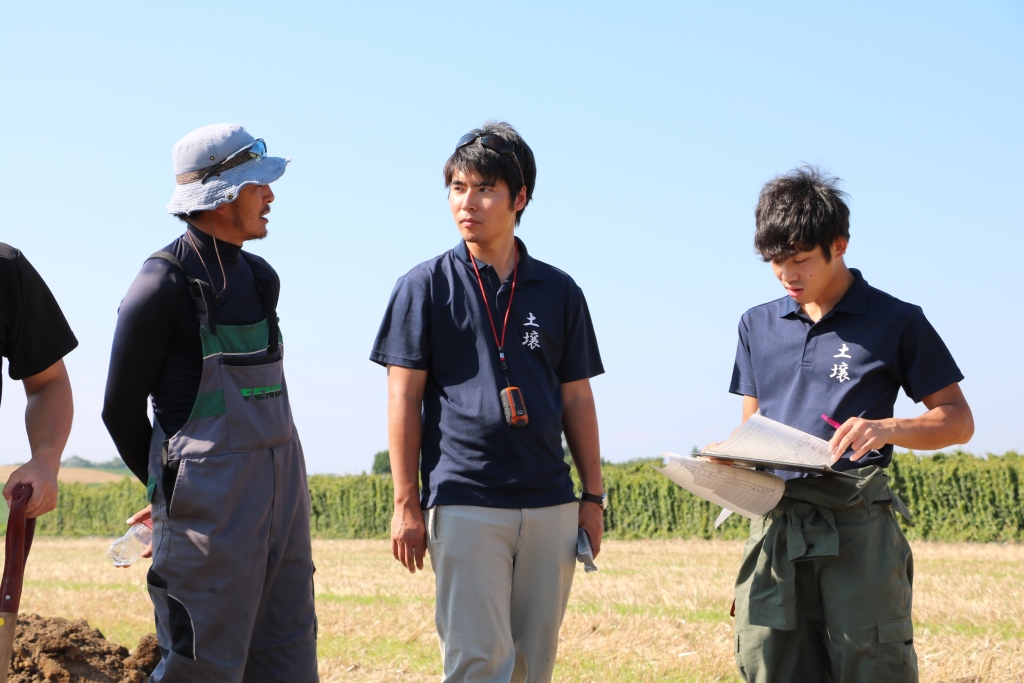 | | |
| --- | --- |
| Academic degree | Ph.D. (Soil Science) |
| Self introduction | I am from Yokohama and have lived in Wales, Costa Rica, and the United States in the past 10 years before coming to Obihiro University. During that time, I not only learnt how to speak English and Spanish but also took courses in agronomy and soil science in undergraduate and post graduate courses. My main focus was the use of infrared spectroscopy techniques in soil evaluation and now I am using this expertise in estimating various soil properties using satellite and drone images. My other interests are the improvement of crop productivity worldwide through appropriate soil evaluation and soil fertility management. Much of my work focuses in Hokkaido but also I go overseas frequently for research visits. My hobby is salsa dancing that I started when I was in Costa Rica and the United States. |
| Room address | General Research Building II |
| Room number | 202 |
| Mail address | rintaro obihiro.ac.jp |
Belongs
Research Center for Global Agromedicine/Department of Agriculture and Animal Science
Research Department/Department of Agro-environmental Science/Division of Plant Production Science/Section of Plant Production Science
Introduction
In order to achieve high crop yield while minimizing environmental impact in agricultural production, it is fundamental to understand the soils capacity to retain nutrients and water, and manage the crop according to the soil conditions. Yield potential of a crop is primarily determined by weather conditions and genetic potentials but soil's ability to supply water and nutrients determine how much of the potential is achieved (Fig. 1). Currently, only 20-30% of the yield potential is achieved in many of crop growing areas across the world. Even in Hokkaido, depending on environmental conditions and growers management strategies, the degree of yield potential achieved is highly variable.
The characteristics of agricultural soils are variable depending on the parent materials (rocks, volcanic ash, plant residue…), climate conditions and other factors. In order for a grower to properly manage their crop, we need to understand the inherent characteristics of the soil. In our laboratory, we conduct soil profile assessment in various places in the world (Fig. 2). We incorporate the knowledge of geology to evaluate the soils in field. We also use laboratory assessment in combination with the field survey to understand the characteristics of the soil.
After understanding the inherent characteristics of the soil, we need to evaluate soil conditions of each field and within field. I have been conducting soil survey at a regional scale from various grower fields to understand the soil physical and chemical conditions. I have been assessing farm field soils at regional scale when I lived in United States where maize and soybeans are mainly grown. In my current research, I have been conducting soil survey in Kenya in East Africa (Fig. 3). In these regions, soil testing has not been incorporated in their agricultural practices. I have been working on building models to use infrared spectroscopy techniques as a rapid and low-cost soil testing method. In Tokachi Hokkaido, farm fields are getting larger and we have been finding high spatial variation of soil properties even at within-field scale. Therefore, some of my work is on the use of satellite and drone images to estimate soil properties at within-field scale (Fig. 4).
Also, we have been conducting field trials to grow potatoes at grower's fields (Fig. 5). I have been trying to combine the knowledge of soil information that can be gained from various technologies and field trial information to derive crop production systems that is suited to particular soil environmental conditions.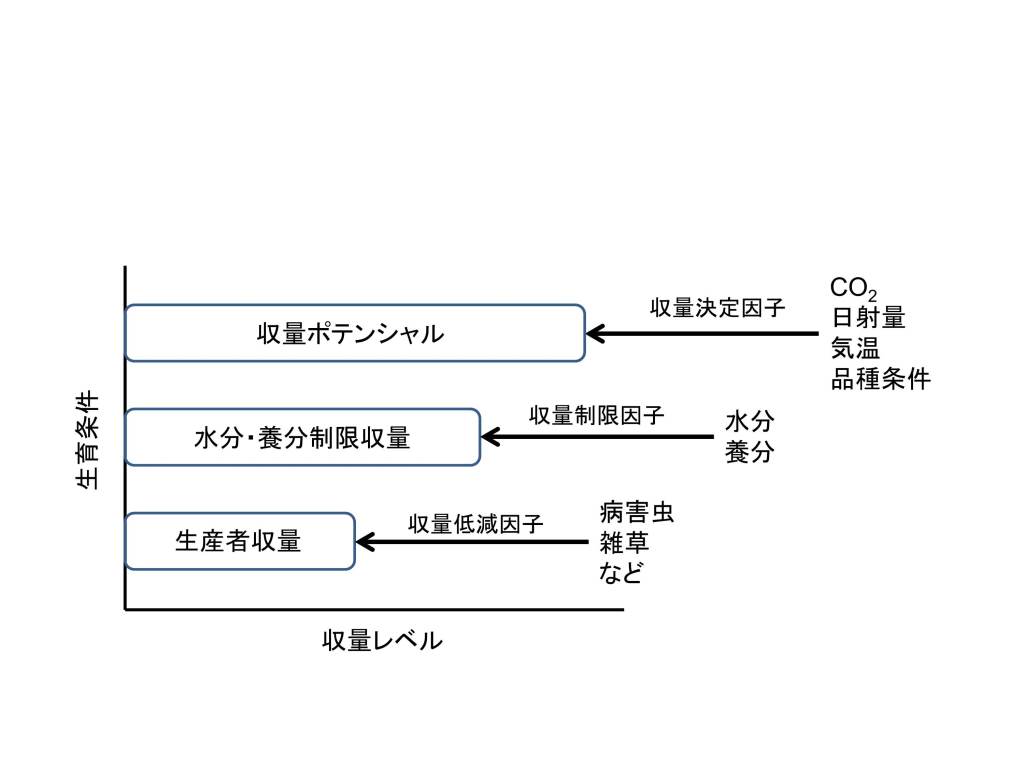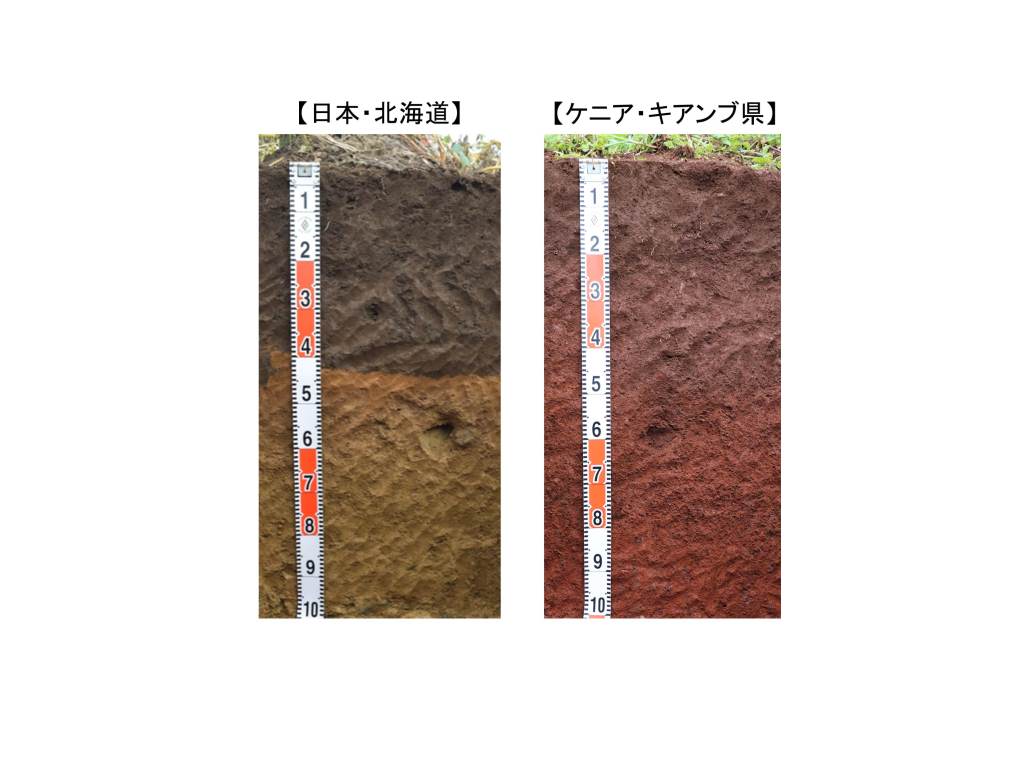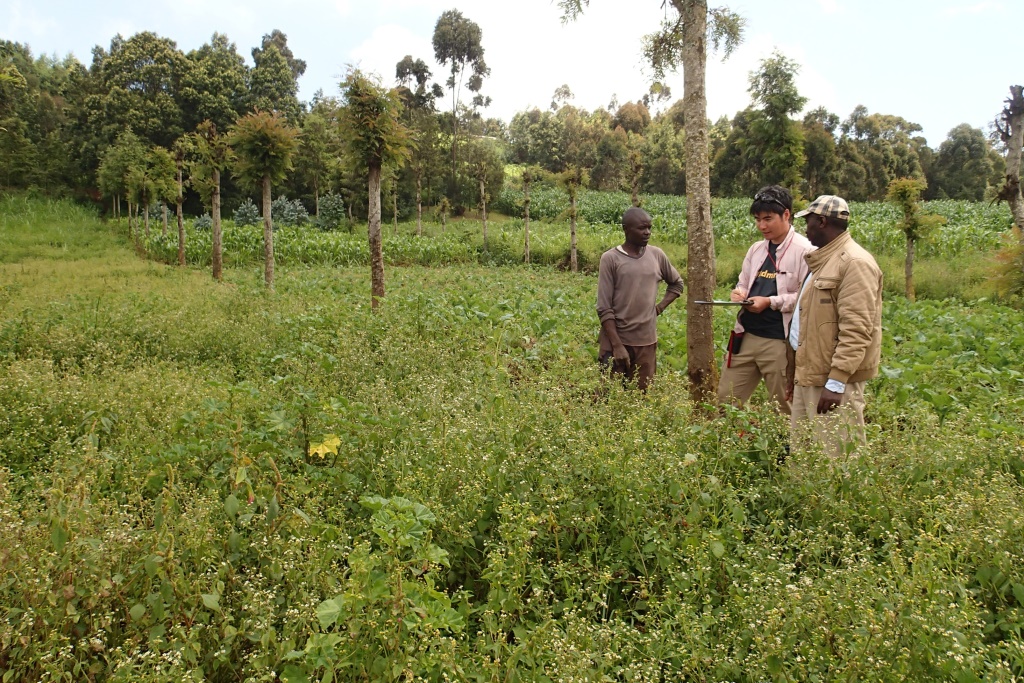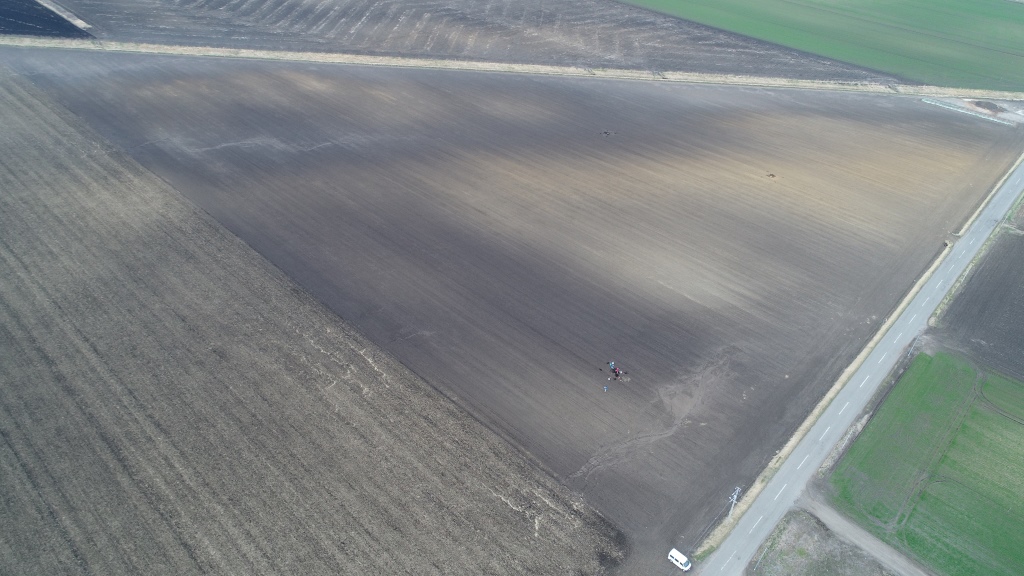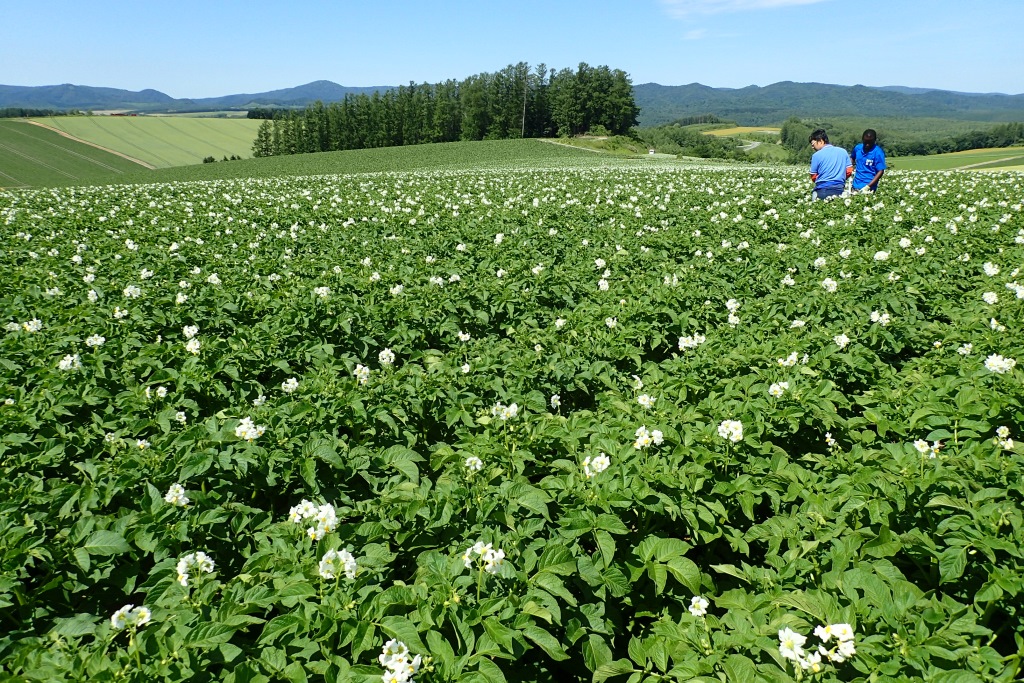 List of current research topics
Evaluation of within-field variable soil phosphorus fertility and soil water holding capacity using satellite and drone information
Use of infrared spectroscopy for soil evaluation
Development of phosphate fertilizer application guidelines for improving yield and quality of potatoes in Kenya
Influence of traditional slash-and-burn agriculture on carbon accumulation and soil fertility in Sabah, Malaysia
Effects of various fertilizers and soil conditioners on crop growth in various soil types
Effects of Chinese yam cultivation on soil fertility and ways for improvements
Influence of land use change on soil physical, chemical, and biological characteristics
Related industries

Agricultural production,

Remote sensing technologies,

Fertilizer industry

Affiliated academic society

Japanese Society of Soil Science and Plant Nutrition,

Soil Science Society of America,

Japanese Society of Pedology

Editor

Pedologist: 2018-Current

Academic background
2008 University of Wales, Bangor BSc in agriculture
2012 Cornell University MS in soil science
2016 Cornell University Ph.D. in soil science
2016-2018 Obihiro University of Agriculture and Veterinary Medecine specially appointed assistant professor
2018 Obihiro University of Agriculture and Veterinary Medecine assistant professor