Belongs
Research Department/Department of Agro-environmental Science/Division of Environmental and Agricultural Engineering/Section of Environmental and Agricultural Engineering
Field

Irrigation, Drainage and Rural Engineering,

Soil conservation

Keyword

Windbreak forest for arable land,

GIS,

UAV,

Wind erosion,

Soil conservation
Introduction
In the Tokachi region of Hokkaido, which is a major food supply base in Japan, strong winds called "horse dung winds" often blow down from the Hidaka Mountains in early spring and seriously damage crops. The windbreaks that have taken root in this area to protect crops from these strong winds have developed with the Tokachi region to form the landscapes that distinguish the region. These windbreaks do more than just protect against wind damage. They also increase crop yields, serve as corridors for small animals, and play a major role in bringing agriculture into greater harmony with the natural environment. However, with recent increases in the scale of agriculture, the area of windbreaks has been declining. I conduct field surveys on windbreaks in Obihiro, which is in the Tokachi district, using GIS. I assess the current situation by comparing my data with the results of a survey conducted by the Obihiro Rural Areas Development Division in 2008.
My surveys are conducted in upland fields in Obihiro, Hokkaido. For the analysis, field survey data (tree height, tree species, number of tree rows, etc.) have been input on GIS software to complete a database on windbreaks. Furthermore, previously gathered windbreak raster data are converted into vector line data on GIS to prepare multilayer data on windbreaks for each fiscal year. In addition, land-use maps and the like are input to construct a spatial information database on windbreaks in rural areas of Obihiro.
The research shows a total of 1,274 windbreak sites in Obihiro for FY 2017, with a combined length of 219.7 km. The windbreak tree height averages about 13 m, the number of tree rows averages 2, and the length averages approximately 172 m. A comparison with the figures for FY 2008 reveals that in the past nine years, windbreaks in Obihiro have decreased by 82.2 km (approx. 28.0%), a great decrease.
Based on these results, we'll prepare a thematic map of the windbreaks in a visually appealing way and entreat people to preserve the windbreaks through our sharing of data not only with farmers but also with the administration.
| | |
| --- | --- |
| Affiliated academic society | The Japanese Society of Irrigation, Drainage and Rural Engineering |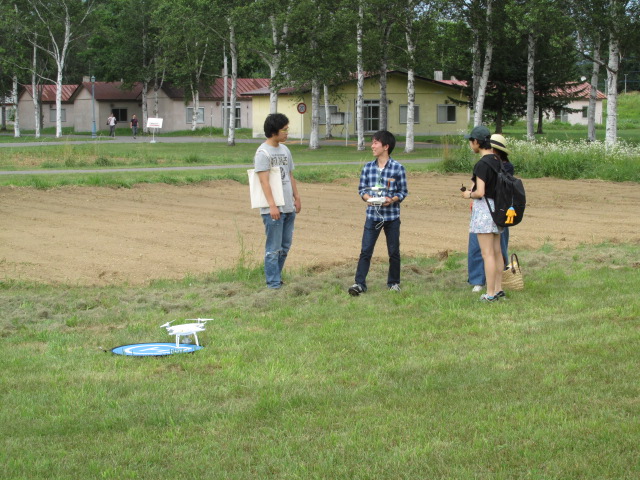 | | |
| --- | --- |
| Academic degree | D.Agr. |
| Self introduction | I'm from Kagawa. I study windbreaks and soil erosion by using UAV and GIS. On the weekends, I enjoy playing tennis. On open campus days, I host the drone piloting activity. |
| Room address | General Research Building 1 |
| Mail address | tsuji obihiro.ac.jp |